m

(I added the research needed for magtical metallurgy)

 

Line 1:
Line 1:
 
+

[[File:Magic.PNG|thumb|251x251px]]

 

Magic Metallurgy is a research option available from the beginning in the [[Alchemy]] tab. Researching it unlocks the creation of Thaumium, a stronger, magical version of iron with high enchantability, and Brass, which is used in many crafting recipes. Thaumium can be fashioned into weapons, tools and armor, but Brass cannot. Both Thaumium and Brass can be fashioned into Plates and Gears to be used in crafting by placing 3 of them in a straight horizontal row in any crafting grid, or by surrounding an iron ingot with nuggets of the appropriate metal respectively, Both metals are created via Alchemy using iron ingots as a catalyst. Thaumium requires 2 Ordo and Terra aspects, while brass takes 1 Potentia and Aqua aspect. A relatively easy way of creating Thaumium is either in the [[Automated Alchemy|Thaumatorium]], or by using 2 Crystallized Essence of Ordo and granite, diorite, or andesite. An easy way to create Brass is in batches of 2, using redstone and Water Shards, or to smelt down sugar cane in an [[Essentia Distillation|Essentia Smeltery]] and use a Thaumatorium or crystalize the Aqua Essentia.

 

Magic Metallurgy is a research option available from the beginning in the [[Alchemy]] tab. Researching it unlocks the creation of Thaumium, a stronger, magical version of iron with high enchantability, and Brass, which is used in many crafting recipes. Thaumium can be fashioned into weapons, tools and armor, but Brass cannot. Both Thaumium and Brass can be fashioned into Plates and Gears to be used in crafting by placing 3 of them in a straight horizontal row in any crafting grid, or by surrounding an iron ingot with nuggets of the appropriate metal respectively, Both metals are created via Alchemy using iron ingots as a catalyst. Thaumium requires 2 Ordo and Terra aspects, while brass takes 1 Potentia and Aqua aspect. A relatively easy way of creating Thaumium is either in the [[Automated Alchemy|Thaumatorium]], or by using 2 Crystallized Essence of Ordo and granite, diorite, or andesite. An easy way to create Brass is in batches of 2, using redstone and Water Shards, or to smelt down sugar cane in an [[Essentia Distillation|Essentia Smeltery]] and use a Thaumatorium or crystalize the Aqua Essentia.

 

[[File:2016-04-09 23.34.09.png|centre|thumb|397x397px|The Alchemy Recipe for Thaumium, as shown in the Thaumonomicon. Please note and excuse the use of a texture pack.]]

 

[[File:2016-04-09 23.34.09.png|centre|thumb|397x397px|The Alchemy Recipe for Thaumium, as shown in the Thaumonomicon. Please note and excuse the use of a texture pack.]]
---
Latest revision as of 21:46, 26 August 2019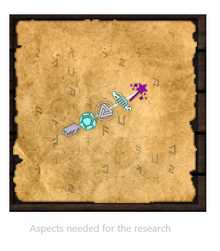 Magic Metallurgy is a research option available from the beginning in the Alchemy tab. Researching it unlocks the creation of Thaumium, a stronger, magical version of iron with high enchantability, and Brass, which is used in many crafting recipes. Thaumium can be fashioned into weapons, tools and armor, but Brass cannot. Both Thaumium and Brass can be fashioned into Plates and Gears to be used in crafting by placing 3 of them in a straight horizontal row in any crafting grid, or by surrounding an iron ingot with nuggets of the appropriate metal respectively, Both metals are created via Alchemy using iron ingots as a catalyst. Thaumium requires 2 Ordo and Terra aspects, while brass takes 1 Potentia and Aqua aspect. A relatively easy way of creating Thaumium is either in the Thaumatorium, or by using 2 Crystallized Essence of Ordo and granite, diorite, or andesite. An easy way to create Brass is in batches of 2, using redstone and Water Shards, or to smelt down sugar cane in an Essentia Smeltery and use a Thaumatorium or crystalize the Aqua Essentia.
Community content is available under
CC-BY-SA
unless otherwise noted.